In today's digital age, your online Reputation Management has never been a more important factor in acquiring new clients or customers to your business.
Kinetic Web Marketing has specialized in strategies to make sure your reputation online is top notch. Whether you have received some negative reviews or press we have strategies in place to get your satisfied clients or customers on your side and building your positive image.
We scan social media platforms such as Facebook, Twitter, Yelp, and Google reviews to make sure negative feedback has been addressed.
Why Reputation Management Matters
When a potential client is looking to make a transaction online or at your business the first thing they want to know is whether they can trust you with their business. with a simple search online they can either find rave reviews or the dreaded one star ratings that will likely make them look elsewhere.
Our team specializes in making sure that you can encourage your prospective customers to look online for reviews and feedback because it is extremely positive.
We scan all the top platforms for feedback and make sure your satisfied customers are sharing that positive feedback on several top applications.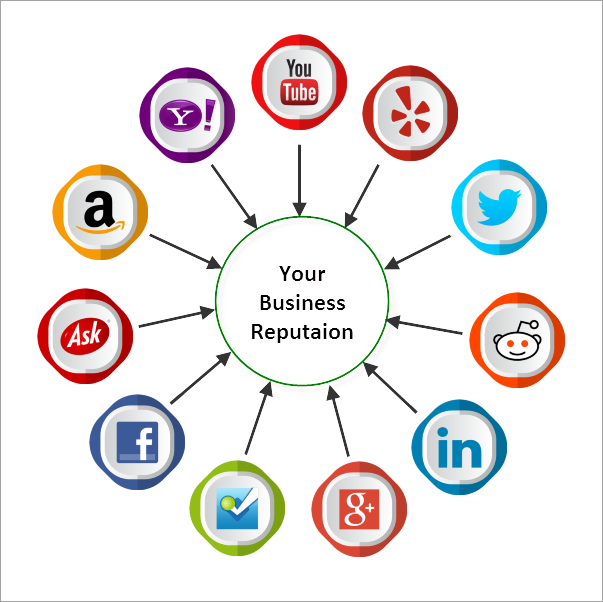 Through Reputation Management we are able actually build that into the sales process so that your team has to do less selling because your raving customers are doing that job for you.
A few negative reviews is not the end of the world for your business, if it managed correctly. Left unattended and it can have a snowball effect that is hard for any company to recover from.
Whether you would like us to change your image or you want to just stay out in front of potential customers with rave reviews we know exactly how to handle those situations.
Reputation Management Process
Whether your looking to improve your personal or business reputation, we have a true and tested process to help.
Step 1 – Address Current Issues
Identify web properties or social media platforms with negative feedback that needs addressed. In some cases you are able to get some non factual claims removed through a legal process.
If removal of damaging claims is not an option then you should address the problem directly with that person and make it know that it has been fixed.
Step 2 – Develop Plan
Organize how you want your digital footprint to look. This is were we identify well known platforms that we can utilize to share information about you or your business. The idea is to get this information to show up in the search results instead of the negative comments or reviews.
Step 3 – Tell Your Story
Over the course of 1 month to 6 months we create several websites and web pages that show your audience who you really are. Now, instead of finding negative information when someone does a simple google search, they will find a bunch of great information on you or your business.
This 3 step process has worked for our clients time and time again when repairing a damaged online reputation.
Once your reputation has been improved, it's important to continue to manage reviews and comments.
Get a Free Lead Generation Consultation Today!
Tell us a little bit about your business and we'll come up with a winning strategy.
Lets Discuss Your Project!