In this article we will take an in-depth look at the anatomy of google search results while providing you the steps to increase your businesses visibility on the first page of Google.
First, lets take a look at why it's important to be visible on the first page of Google.
Googles First Page: Breaking Down the Data
It's no secret why companies spend big money to be at the top of Google search results.  According to a study by Chitika, 91.5% of Google search traffic does not leave the first page.  The data speaks for itself.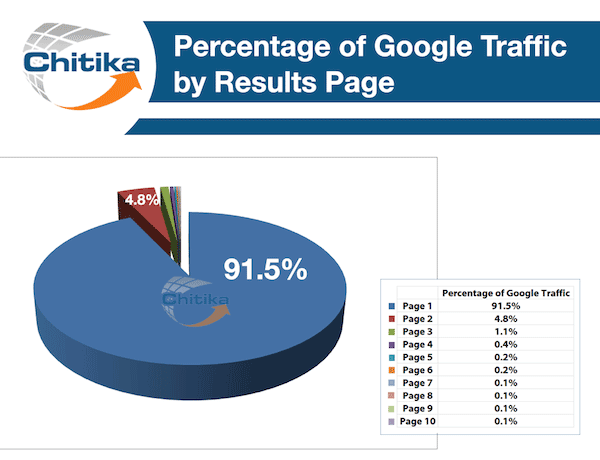 Business owners understand why a first page ranking on Google is important for their Online Marketing strategy.  The numbers don't lie.
Still not sure?  Test it out.
Ask someone you know to do a Google search for a product or service.  What you will probably find, is that they won't go beyond the first page of the search results, just like the 91.5% of people that click on the first page results.
Exposure on the fist page of Google equals more business for you and your company.
 First Page Of Google: Layout
Okay, we understand the importance of front page visibility but what are the options to get your business showing up on the first page of Google?
To better understand the layout, we've broken down the components of the page below.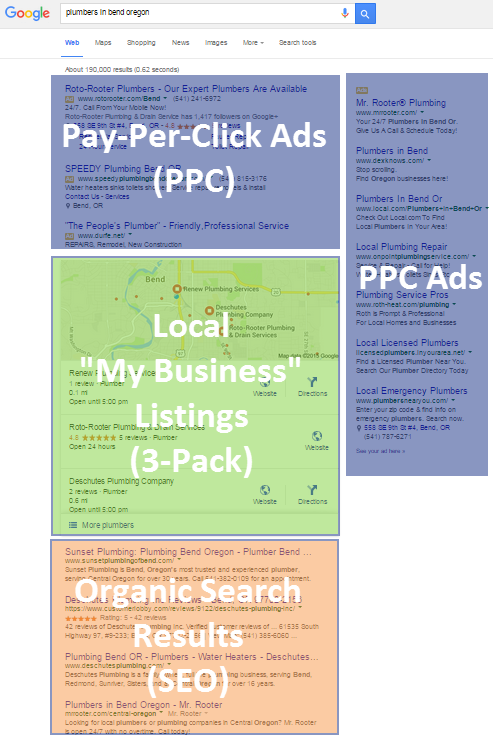 Each component on the first Page of Google is important because it is entirely related to user intent.
Let me explain…
Understanding your audience and their needs is the key to focusing your online marketing efforts.  I'll use a local Plumber as an example, plumbing is a high user intent search query.
Someone Googling this term likely has a problem that they need fixed right away, if your business isn't near the top of the results there is a good chance you're giving your competitor their business.
Understanding How To Focus Your Efforts
There are 3 key components to the success of your online marketing campaign, PPC Ads, Google My business Listings, and Organic Search results.  The secret lies in creating a strategy to rank well in all 3 of these Google search components.
In order to do this well, you must understand Keyword Intent.
Commercial Intent [Likely to make a purchase] – The user is searching for a product or service to solve a problem or issue.
Informational Intent [Less likely to make a purchase] – The user is searching for an answer to their question(s).
What does it look like?

If someone searches [Plumber + (city name)] chances are that they need to hire a plumber to get the job done. In this case,  PPC Management is going to be the fastest, most effective way to increase website traffic and phone calls due to the high commercial intent of the example keyword.
According to Wordstream, an online marketing data company, PPC ads receive 64.6% of high commercial intent keyword clicks. That number represents a potentially large increase in business if you sell a service or a product that has high commercial interest.
Lets look at a low commercial intent keyword, where a different strategy would be better suited.

If the user were to search [How to fix a leaky faucet] that would represent an informational intent keyword. They would rather fix it themselves than pay someone else to solve their problem.
In this example, strategy should be focused on a well rounded SEO campaign that points the user to your website to learn how to fix their faucet (bonus points if you have have video content on YouTube).
Why would you want informational traffic if their not going to buy from you, you ask?  
Building a business is all about creating relationships and building trust with your clientele. By helping them solve their problem you've already built trust and made an impression on them with your brand.
At some point down the road that person may run into a plumbing issue that they cannot solve and you will likely be the first person or business they think of.
When you solve a customers problem, you're more likely to get glowing reviews (which are important for Local My Business Listings) and you are more likely to get personal referrals.
How To Improve Your Google "My Business Listing"
Increasing the rank of your Google "My Business Listing" has become more and more important. This section alone takes up a huge chunk of the first page results, right after PPC ads, of course, it's crucial that you continuously optimize your local listing.
Your local My Business Listing is largely ranked on 3 major categories, relevance, location distance, and online prominence.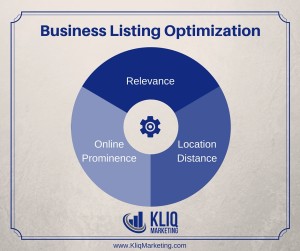 Increasing Relevance
Increasing your relevance has a lot to do with optimizing your content and listing with your focus keywords and publishing relevant content to your Google Business page. It's important to add all of your business details into the Google My Business listing so it can show your listing in relevant search results.
It is important your listings are consistent across other online directories as well as your Google Business listing.  Maintaining a consistent name, address, and phone number (NAP) across all of your online business listings is one of the most important things you need to do.
Location Distance
This is pretty self-explanatory. How close is your business to the user searching for your relevant services or products?  Google will take this into account when showing listings to a searcher.
Online Prominence
Your Online Prominence is directly correlated with your Off-Site SEO strategy.  This is where directory submissions and a robust backlinking strategy come into play when trying to increase your Google My Business Listing Prominence.
Conclusion
Getting to the first page of Google in a competitive industry may seem like a daunting task for you and your business.  That's why we're here to help you get started.
We recommend taking advantage of our Google Advertising Audit
PPC advertising offers fast, measurable results and if used correctly, the data you gain from your PPC campaign can offer great insight into your SEO and overall integrative marketing strategy.
Get a Free Lead Generation Consultation Today!
Tell us a little bit about your business and we'll come up with a winning strategy.
Lets Discuss Your Project!