Is Your HVAC Marketing Budget Suffering?
As with most HVAC Companies I'm sure you get unsolicited phone calls every single day from telemarketers trying to sell you online marketing services and directory listings.
The big ones are Yellow Pages, Houzz, HomeAdvisor, Angieslist, Yelp, and the thousands of SEO companies out there that call around with the same low dollar pitch.
If you're like many HVAC contractors, You've at least dabbled with one of these services only to find that the results were mediocre or worse, no results at all.
Depending on your location, and competition levels it is possible that you received results, but there are a lot of HVAC Companies out there who continue to burn their marketing budget with these websites.
This is why I decided to write this article.
I feel that if more HVAC Companies knew what goes on at these directory companies like Yellow Pages, HomeAdvisor, and Yelp, they could save thousands of dollars and boost marketing ROI.
Now lets cover the top 3 HVAC Website Marketing Mistakes and problems for Online growth.
Problem #1:
Only

Focusing On SEO

SEO or "Search Engine Optimization" is a crucial part of any long-term online strategy and something that should not be overlooked.

However…

There are a lot of SEO companies out there that are using old antiquated strategies that no longer work after the latest google algorithm updates took effect.

The worst part is that some of these outdated strategies actually hurt your Google ranking.

A mistake I see often is that HVAC companies hire the first SEO company that comes along and sends them a proposal or case study.

The majority of these SEO Companies are small local SEO companies or large National SEO providers that charge a small nominal fee of $300/ month.

What that $300 fee gets you is almost always a mystery, I'm sure you get convoluting reports on ranking information but rarely see a work log that clearly shows what is being done to increase ranking.

SEO that works is typically more than $300/month and results don't come overnight. A lot of these companies will work in 100+ industries and have no focus on a particular niche.

That means they're working uphill trying to learn and industry and get a website ranked every time they get a new client.

There's a better way.

Instead, work with an SEO company who specializes in HVAC and other home service contracting services. You should also make sure they have the ability to post dynamic location-based job summaries on your website. Google loves fresh dynamic content that is updated regularly.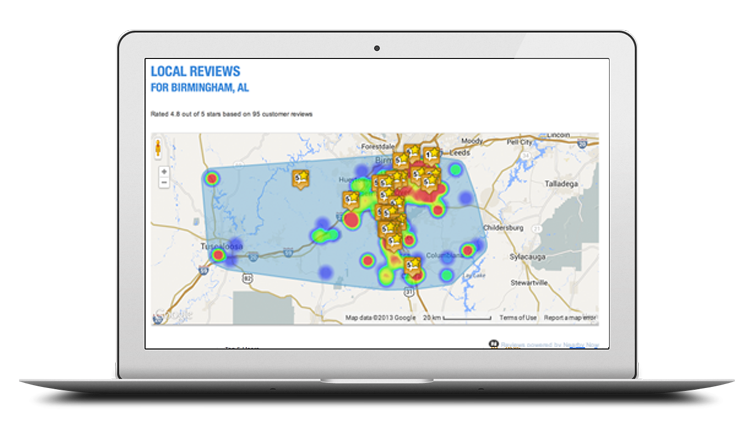 With location-based content, you are more likely to see rankings quicker and in some cases, much cheaper than a traditional company.
Being in a specific industry, like HVAC, gives you a huge advantage of getting SEO Rankings.
Look at the big picture before choosing to work with a company that's promising you better rankings or more leads.
A good SEO company will also focus on a combining it with a Successful PPC campaign to give an expectation on keyword revenue.
In Summary, make sure your SEO company has your interest in mind, also, balance your budget on traffic you can control like PPC ads.
Problem #2: Paying a "Directory Website"
A directory is a company or website that has lists of many service providers such as roofers, plumbers, electricians, etc. all in one spot. Often times they will pitch you on getting more exposure by paying for a listing.
Some big name directories that you've probably heard of include Yellow Pages, Angie's List, and Yelp.
Now…
I'm not saying that directories don't work or that you can't get leads from them.
Clients have gotten plenty of HVAC leads in the past from directories.
Here's the thing though.
Directories rely on a volume business model.
They only work when there are thousands if not hundreds of thousands of businesses paying a monthly subscription for a premium listing.

These premium listings can be expensive and take a huge chunk of change out of your budget every month (with long-term contracts in some cases).
To a directory – your HVAC company is just a number at the end of the month.
They don't care how many leads you get or how well you're doing.
All they're concerned about is keeping you subscribed for another month paying $$$ for your premium listing.
That means your hard earned dollars are just going to them doing the bare minimum to keep you from canceling that monthly payment.
If a premium listing is working for you and generating leads, by all means, keep it running.
I just want to make HVAC companies aware of the business model they're buying into.
I recommend every HVAC company to have a listing on all of the Top 15 Local listings.
Google+ Local
Bing Local
Yahoo Local
City Search
Angie's List
Yelp
YP.com
Merchant Circle
Manta

The majority of them are free – you have nothing to loose being on them.
Just be extra cautious of when they try to sell you on a premium listing.
Problem #3: Buying Leads From HomeAdvisor
HomeAdvisor is a giant in the lead generation provider for the Home Service Contractor Industry. I'm sure you've heard of them and maybe even bought/are buying leads from them.
The mistake here is made when you're spending a good amount of money on leads that are also being sent to 3 or 4 other roofing companies.
Your chances of signing a new job drop significantly when the homeowner has multiple HVAC Companies calling them and low-balling each other for the job.
You don't have to play that game.
Instead… invest budget into your own lead generation.
I Provide a Free Training Lesson On Exactly How To Generate Leads Here
The main benefit is that you get exclusive leads that end up being much cheaper.
Want to learn how to generate HVAC leads for cheap?